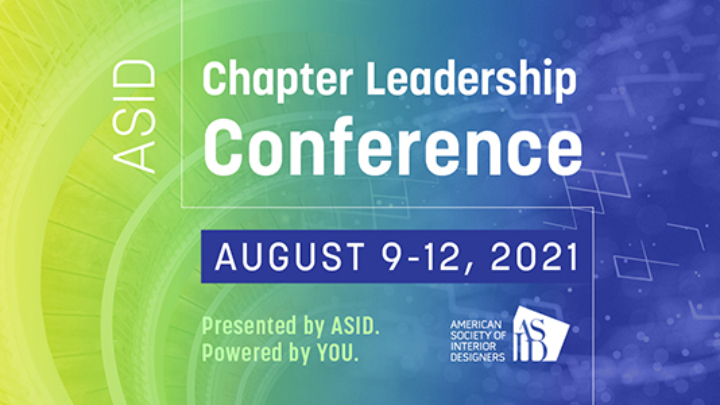 ASID Chapter Leadership Conference
Description
For chapter leaders, by chapter leaders.
From August 9-12, 2021, ASID Chapter Board leaders will experience learning and inspiration. Participants will be provided with exclusive training to build invaluable skills for success in leadership positions. This virtual event is pivotal in helping to develop collaborative thinking, build stronger working relationships, and prepare you for your new role - all while being inspired by your industry peers and a roster of engaging events!
Registration for CLC 2021 is open to all current and FY2022 ASID Chapter Board Leaders. You must be an ASID member to register; log-in using your ASID.org user name and password. Contact customer service at (202) 546-3480 or membership@asid.org if you need assistance.
PROGRAM SCHEDULE
Monday, August 9 | Chapter Leadership Kickoff
3:00 p.m. – 3:45 p.m. EDT | CLC Opening Session  
4:00 – 5:00 p.m. EDT | Speed Networking  
Tuesday, August 10 | Chapter Sustainability
12:00 – 1:00 p.m. EDT | From Dive to Revive, Chapter 2.0 (Indiana Chapter)  
2:00 – 3:00 p.m. EDT | The Impact of Touchpoints on Volunteer Recruitment (New York Metro Chapter) 
4:00 – 5:00 p.m. EDT | Creating a Culture of Belonging: A Chapter's Focus on Diversity & Inclusion (New York Metro Chapter)  
5:30 – 6:30 p.m. EDT | Networking  Power Hour
Wednesday, August 11  | Chapter Value
12:00 – 1:00 p.m. EDT | Power in Numbers: Building Your Chapter Advocacy Program (Ohio South Kentucky Chapter)
2:00 – 3:00 p.m. EDT | Teams Work! Engaging Your Members Through Committees (Illinois Chapter)
4:00 – 5:00 p.m. EDT | Unlocking your Chapter's Social Media and Communications Potential (Pennsylvania East Chapter)
5:30 – 6:30 p.m. EDT | Networking  Power Hour
  
Thursday, August 12  | Chapter Events
12:00 – 1:00 p.m. EDT | Adaptive, Responsive, Mission-Driven: One Chapter's Pandemic Story (Carolinas Chapter)
2:00 – 3:00 p.m. EDT | Student Engagement in the Virtual World (Alabama Chapter)
4:00 – 5:00 p.m.  EDT | Fundraising Grand Slam: Mission, Money, and Volunteers (Arizona North Chapter)
5:30 – 6:30 p.m.  EDT | CST After Party   
ACCESS CLC in 4 EASY STEPS:
Go to http://learn.asid.org/clc2021. Click "Register."
Sign in using your ASID member login credentials.
Scroll down on the page and click the blue "Confirm Order" button. Congratulations, you are registered!
To attend the sessions, simply go to the Agenda, select the session, click "Learn More," and you will see how to access the content.
Troubleshooting:
Did you forget your username and password? No problem, click the "Forgot Password Button" and it will be sent by email in 5 minutes.
Did you get an error message when trying to register/log in? No problem, we can help. This message means you either have a balance due or you are trying to register with a non-member guest account. You need to be an active member to register for the conference. Please give us a call (202-675-4456) or email (membership@asid.org) and we can assist.